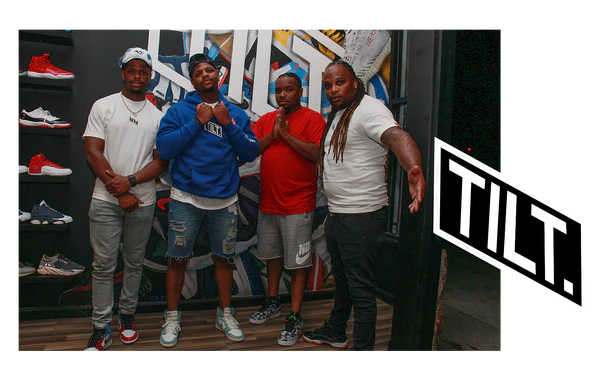 tilt/
verb
1
.Treat It Like Treasure.
"Treat your collection like Treasure"
Similar:
Fly, Dope, Swag, Regular
2.
Historical
Four Partners with the same vision
"They wanted to change the shoe game and so they did"
Similar:
Exclusive Sneakers, Consignment, Buyouts, Merchandise, Dope Shopping Experience

TILT was born of passion, and inspired by our deep rooted history in Los Angeles . It is our desire and privellage to serve our community by providing an excellent experience, while giving back through partnering with likeminded brands to support the growth and optimization of our hometowns. It's not just about sneakers, it's about the complete expression of our culture, and the relationships we build along the way.

Yes, we're growing, and it's the support of our customers near and far that allow us to survive amongst the giant corporations. When you shop small, you're making the grass greener in your own community.

By supporting Black Owned Businesses, you're assisting in the fight against social injustices that deter POC from claiming their birth right to success.

Whether you're buying or selling, you can trust our sneaker experts at TILT to have competitive pricing, excellent customer service, and nothing but completely authentic merchandise.